Time to wrap up 2016 with a report on my yearly goals! I did pretty well this year with a total of 96%. There was only one goal I didn't complete!
1. Cook every recipe in Sally's Baking Addiction: 100%
The final recipe was crepes!
I would say out of everything I baked, my favorite had to be the homemade granola. It's so easy, and so much more delicious than store-bought. Here's the recipe for you:
Maple Pecan Granola
Prep Time: 5 min
Total time: 50 min plus cooling
Makes: 2-3 cups
Ingredients
2 cups (160g) old-fashioned oats
1/2 cup (165g) pure maple syrup (one time I ran out and used honey!)
1/4 cup (50g) brown sugar
3/4 cup (105g) chopped pecans
2 tbsp coconut or vegetable oil
1 tsp ground cinnamon
pinch of salt

1. Preheat oven to 300F. Line a baking sheet with parchment paper.
2. Combine all ingredients and stir until all oats are moistened.
3. Spread onto baking sheet and bake for 45 minutes, stirring every 15 minutes. Allow to cool completely.
2. Finish all 2014 Goals: 100%
The only thing I had left on our last update was the fancy drinks!
2a) Read T-Z in Brewer's: 100%
2b) Make 7 pies: 100%
2c) Make a fancy drink every month: 100%
Every drink I made in the last three months has been great! In October I made a fancy crock pot apple cider with apricot nectar for my book club. It was so great I made it again at Christmas! I tried another vanilla apple cider in November, but decided the first one was better. And then in December I made spicy crock pot hot chocolate and my book club loooooved it. I have made it at least three more times since because so do I. It's from a book I got at the library called Slow Cooker Family Favorites by Maggie Shi.
Spicy Hot Chocolate
Serves 8-10
Ingredients
1 1/2 cups heavy cream
1 (14 oz) can of sweetened condensed milk
7 cups whole milk
1 tsp vanilla extract
1 tsp ground cinnamon
1 tsp ground nutmeg
1/2 tsp cayenne pepper
2 cups semisweet chocolate chips

Put everything in the slow cooker and whisk together. Cover and cook on low for 2 to 3 hours or until the chocolate has melted. Stir occasionally during that time.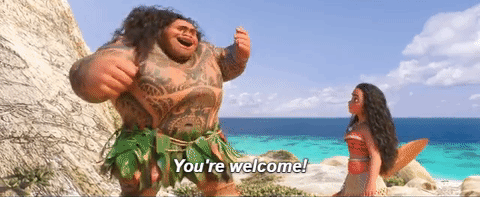 2d) Get everything then on my to-read list off it: 100%
Of course, my to-read list now has 389 books on it, but whatever.
2e) Update my blog 7 times: 1005
3. Finish all my Craftsy Classes: 80%
This is the one I failed at. When we last talked, I only had Continental Style knitting to go. I gave it a shot but it was so awkward and frustrating I gave up. Maybe I'll give it another shot at some point in the future.
4. Complete a temperature scarf: 100%!!
This is probably the goal I'm most proud of!! Here it is: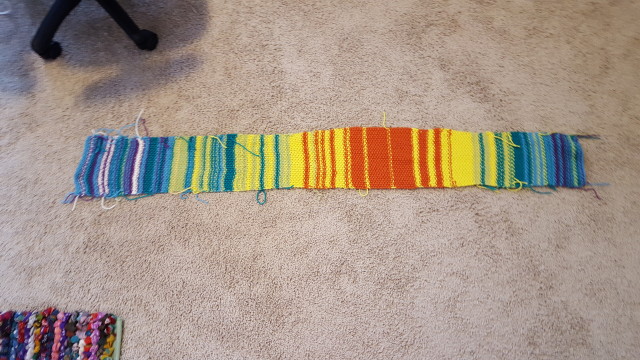 I haven't woven in the ends yet, so eventually those will be gone. You can tell that summer was a lot more one note than winter on both sides. I averaged the highs and lows to get each day's temperature. Here's the color key:
Orange=80s
Yellow=70s
Green=60s
Turquoise=50s
Blue=40s
Purple=30s
White=20s
I was going to use Red for an average in the 90s but somehow the average never got there. Ditto black for lower than 20.
5. Read one book a month someone else recommended to me: 100%
I'm pleased to say that three of the books from this project made it onto my Best Books of 2016 list! In October I read this book recommended by a library coworker:
This book was really interesting and also sad. It had a big chapter on North Carolina, since we're one of the most (the most?) gerrymandered states. Check out my district, friends:
Which isn't as bad as District 12:
In November I read this book recommended by another coworker/friend:
This one got 5 stars from me! I don't normally go for heavy sci-fi space adventures, but I really enjoyed this one about a mercenary working on a cargo ship that's ~not what it seems~
In December I read this book recommended by Rob!:
Rob often likes really angsty books so I was wary, but I really liked the voices of the main characters. They felt really honest and real. This one also got 5 stars.
Steven has vowed not to make goals for 2017 because he hated these quarterly reminders of his own failure. Here it is one last time!
1. Cook one vegetarian meal a week
"I was doing pretty good for a while there, and then I think I forgot. I still do it, but not on a regular basis."
2. Learn a new violin piece once a month
"Yeah, I haven't hardly picked up the violin outside of orchestra. Ain't nobody got time for that."
3. Finish all Craftsy classes
"No way. Nowhere near. I did finally get through the knife skills class I was putting off. It was useful."
4. Make at least one bag out of leather
"I feel kind of bad about that one. I kept thinking about it, planning out different things in my head, and then never… I got distracted with Christmas presents actually."
Previously: Goals 2016: Home Stretch