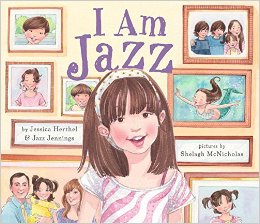 Title: I Am Jazz
Author: Jessica Herthel and Jazz Jennings
Challenged in: Mount Horeb Primary Center, Wisconsin
Because: Inaccurate, sex education, homosexuality, religious viewpoints, unsuited to age group
This is a picture book about Jazz Jennings and her life–how she likes dressing up as a princess or a mermaid, how she has two best friends, how she has always felt that she is a girl even though the people around her didn't always agree. It explains what being transgender is in a way kids can understand, and shows that Jazz is pretty much like any other girl you would meet, except that sometimes people are mean to her for who she is. The book doesn't dwell on this, though, and the illustrations are very cute. It's the perfect book to read to a class, for instance, when one of their classmates is transgender to forestall any bullying that may occur. Which is exactly what was going to happen in Wisconsin until a hate group and some parents complained. It's a pretty innocuous book, unless you don't believe that transgenderism is a thing, and then I guess it's a sadistic attack on everything you hold dear or something. You can tell that from the vague accusations against it.
Inaccurate: Hard to be inaccurate when it's just one person's experience. Unless you're taking issue with the fact that she is a girl.
Sex education: Of course these are the same kinds of people that see sex education as a bad thing. The closest this book comes to it though is the sentence "I have a girl brain in a boy body."
Homosexuality: This is a children's picture book, so no sexual preferences are referred to at all.
Religious viewpoints: Religion is never discussed at all.
Unsuited to age group: This is only the case if you think elementary school is too young to know that transgender people exist, a hard argument to pull when one of their classmates is transgender.
Kids seem to freak out about this stuff way less than their parents, and it's really sad that all of these adults are setting out to bully a child.
Previously: Looking for Alaska
Next: Two Boys Kissing