2014 was the worst year of my life (so far, I guess). December 31st, 2013, I made calzones, watched a compilation of the best vines of 2013, and then spent the night throwing up. The next day I thought calzones had been a poor choice. The next week I thought I had the flu. The next month I thought I was probably going to die.
SURPRISE! I didn't. But spending months as a medical mystery, dealing with doctor's bills, medicine side effects, endless tests, and trying to get enough nutrients to not be hospitalized would take its toll on anyone. Thankfully, I'm doing a lot better now. I don't want to get into details, but obviously my yearly goals took a fatal hit.
1. Read All of Brewer's Dictionary of Phrase and Fable: 87%
When it was December 1st and I was still somewhere in S, I realized this wasn't going to happen. I still plan to finish, but without the time crunch.
2. Make a pie once a month: 40%
I was kind of surprised this wasn't 0%, but I did make a few pies this year, mostly for other people's events. Most recently, I made a chocolate pumpkin pie when my grandma visited this fall. Adding chocolate to pumpkin isn't intuitive, but everyone seemed to like the results!
3. Make a new cocktail once a month: 0%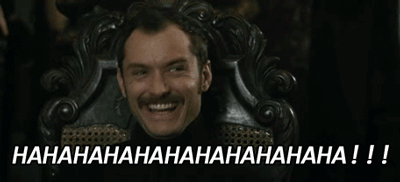 lulz
4. Get everything currently on my To-Read list off it: 92%
Soooooooo clooooooose. Oh well. I have 8 left. That's pretty good, considering.
5. Make Dwarf Helms: 100%
If you're going to succeed at only one of your goals, it might as well be the most metal. And the one that keeps your face warm.
6. Update my blog at least once a week: 87%
Another that I was SO CLOSE to achieving, until somewhere around November when I started getting lazy.
Total: 68%
Fuck you, 2014. You sucked hardcore, and I'm not sorry to see you die. Bring on 2015!
Previously: 2013 goals