After hearing that delicious French macarons are "the ultimate kitchen challenge," you'd better believe I was ready to pick up that gauntlet and use it to punch baking in the face. My opponent was Steven, because everyone else I texted about it has lives. FOOLS.
Here's a picture of what French macarons are supposed to look like:
They're a delicious mixture of crispy outside, cakey inside, with different kinds of ganache/coulis/whatever fancy filling in between. They're also, hands down, the hardest cookie to make. Even this youtube tutorial, which is a "foolproof" method trying to convince you that YES YOU CAN, admits that. And that one little mistake can make all your work for naught. These cookies are finicky as hell. The batter has to be mixed to just the right consistency–my recipe even specified the approximate number of spatula turns in an attempt to guide me that still didn't work–and then it's piped out onto a cookie sheet and baked at just the right temperature. After reading a few online tutorials, all of which began with something along the lines of "Okay, I've tried this five times, and here's what I've got so far…" I started to think that maybe I had started trashtalking a little too early. Regardless, I powered through.
The first step (in my recipe at least) was to sift together the almond flour and the powdered sugar. I had a long argument with our food processor, but finally, after covering most of the kitchen in sugar, ended up with this:
Apparently it has to be as powdery and fine a consistency as possible, or else. Next step, beat the egg whites into stiff peaks. I think this step was my eventual downfall:
My biggest mistake, looking back, was that my egg whites weren't stiff enough. So when I reached the crucial step of combining the ingredients–but only just enough OH GOD IS IT OVERMIXED OR UNDERMIXED WHAT IS HAPPENING–the batter was too runny. So when I piped it out (or tried to–another battle with a kitchen apparatus ending in stalemate) I got blobby puddles:
At this point, I was pretty sure all was lost, but I was going to put them in the oven anyway, because whatever. Though the recipe was supposed to be for 24 macarons (therefore 48 cookies), I ended up baking about 18 after said battle with pastry piper. Probably because they were thinner than called for, they ended up a little more golden than they should:
Plus, the tops of many of them had separated from the still-gooey bottoms, which were stuck to the parchment paper like glue:
Undaunted, I whipped up the lemon mascarpone filling:
And assembled what macarons I could from the cookies I could salvage:
Then I put them in the fridge since one of the tutorials I read said they needed 24 hours to mature. I was pretty sure I had lost, but wouldn't know until Steven tried his recipe later.
He'd done way more research than me (I spent more time assembling my power playlist), and he started so strong. His egg whites were definitely whipped to perfect peaks.
His piped beautifully too:
And, though they'd changed color after coming out of the oven, they still looked great:
Some chocolate ganache filling and they seemed to be the perfect macarons:
BUT THEN, after maturing in the fridge, his were still hard as rocks and crunchy, not at all the consistency a true macaron should be. While mine were few in number and a little weird-looking and thin, at least they had the crunchy outside and soft insides that make macarons so delicious. Plus, mine were super lemony, his favorite flavor (not cheating–he could have picked any flavor too). So, with complete astonishment, we agreed that I was the true winner of THE ULTIMATE KITCHEN CHALLENGE!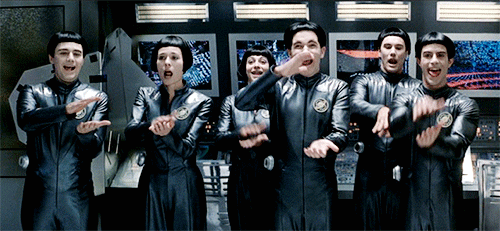 Although we were both far from perfect. And while I'm content to never try that again (too much work for too little pay off), Steven is all set for more experimentation. As you probably could have guessed.