This year I am at Steven's house for Christmas, something that everyone is treating as this big dramatic thing, when in reality this is at least the third time it's happened. But I have quickly discovered that I can easily get things by whining that "it's just not Christmas without ice cream for breakfast" etc. As I learned from the claymation Community Christmas special, Christmas means different things to different people ("Remote control Christmas pterodactyl!!!"), and to me, I'm always reminded of three things. I wish I had pictures, but alas, you will have to use the power of your imagination!
Gingerbread Men Ornaments
Until I was about ten, my mom would always make these gingerbread ornaments for the Christmas tree. The recipe was a little different than for cookies you are supposed to eat, and I was warned multiple times when younger that they were NOT FOR EATING and POISON! I was convinced that eating even a little bit would have killed me instantly. There were gingerbread men and also gingerbread hearts that had people's names or "Merry Christmas" written on them in a similar NOT FOR EATING kind of frosting. The tree would smell like tree AND gingerbread, and it was fun to make new decorations every year. Then we moved to Florida and having food on a tree inside the house only attracted all kinds of bugs. That, and my brother's allergies, necessitated moving the tree to the enclosed back porch, which brought on one of my most vivid and most terrifying Christmas memories ever.
Since the small bugs that can get into the enclosed back porch weren't really a problem, it was the humidity that eventually brought about the retiring of this Christmas tradition. Because Florida Christmases tend to be somewhat balmy, the gingerbread men soon fell apart in the repressive moisture found in the Florida air. Since their weakest point is their narrow necks, the Christmas tree would be surrounded by decapitated gingerbread bodies, the tree itself strewn with their severed heads. It was like gingerbread Vikings had attacked our tree and made examples of all the gingerbread menfolk. After a few years of this, my mom gave up the gingerbread decorations. It's weird that I still think about them every Christmas–and about the horrific aftermath of gingerbread carnage I've witnessed.
A Christmas Story
This movie is my dad's absolute favorite movie ever, possibly. Half of it is because it's funny, the other half is because my mom hates it. I think she feels too much empathy for Ralphie, feeling bad for him when Santa pushes him down the slide, when his mom makes him wear the horrible pink bunny suit. Or maybe she feels bad for the mother character who has to deal with her husband's obsession with the tacky leg lamp, her Christmas dinner being eaten by the neighbor's dog, and her authority undermined by her husband who buys Ralphie the coveted Red Rider BB Gun, even though she keeps insisting that "you'll shoot your eye out".
The movie itself is good, I like it, and think everyone should see it at least once. But it's not really about the movie. It's about having the movie on 24/7 on Christmas Eve, having it in the background of everything, and having my mom complain and my dad glory at the "best parts"–which are, of course, the parts that annoy my mom. I feel like I could almost recite this movie, I've seen it so often.
Michigan Rummy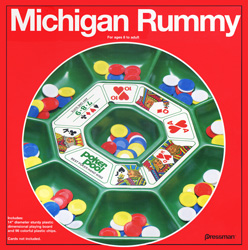 My family is super serious about Michigan Rummy. You know you're grown up when you graduate to playing by yourself instead of as on a team with some adult. It's part skill but a lot of luck, and we usually play for pennies, kept in a tupperware in my brother's closet for this express purpose. The only downside of the game is that it's more fun with more people, so I only get to play at times when there are 5-9 people around, times like Christmas. Hopefully I will be able to convince Steven's family that it is the best thing ever! I have been saving my pennies.
So, yeah, that is Christmas in my heart: gingerbread carnage, my dad being happy that my mom is vaguely annoyed, and gambling. So festive right now!