Shockingly, yesterday I went the entire day without thinking something, someone, or some esoteric concept was out to get me. Possibly a record. So, in celebration of my new-found and probably short-lived lack of paranoia, I thought I would write about some things that are actually pretty awesome. (I assume they will all be part of Friday's "Things That Spell Our Doom" after they turn on me tomorrow).
1. High fives
Did you know that they have an amazing Wikipedia article, complete with how-to pictures and multiple "variations"? I didn't until I googled it in an attempt to find a hilarious picture and then forgot what I was doing. Anyway, yesterday I taught a kid how to do long division and when he finally got it, he gave me a high five. It was pretty awesome, and the best possible form of payment for my stellar services. You know, besides money.

2. Surprises
Usually, I am not a fan of surprises, probably because I am easily startled and therefore hate people jumping out from behind things. However, yesterday when I got home mad late, I found Steven Wiggins had surprised me with flowers: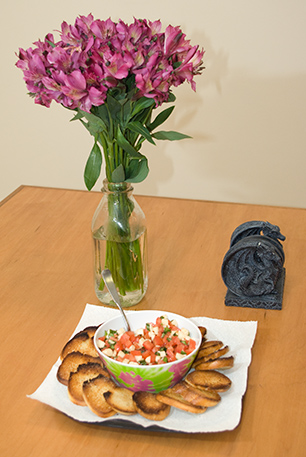 and also surprised me with a three course meal! I don't have pictures of that because I ate it too fast. Surprise food=always pretty awesome.
3. Rachel now lives a mile from me!!
Ridiculous, I know. I assume the other members of THE 434 will also randomly move here for their own reasons. Adventures are sure to follow. Personally, I'm hoping for another List.