I was more upset than seems natural that the world lost one of its greatest writers, and, more importantly, a kind and awesome person when Sir Terry Pratchett died yesterday. His books are, quite simply, magic. They mean so much to me that I've rewritten this post at least twelve times because it never seems to be enough. I can't explain it well enough to do them justice, especially if you've never read any.
The Discworld floats through space, supported by four gigantic elephants who are themselves standing on a giant turtle. A Star Turtle. It seems strange at first, but after you're one or two books in, it seems completely natural.
Discworld books always get shelved in fantasy, because some of the characters are subpar wizards and there are swamp dragons and time travel and trolls. But it's not some High Fantasy bullshit where you need a giant appendix with a glossary of elvish terms and characters. The Discworld is more about our world than anything. It's about war and death and the pain of growing up and growing old, the magic in everyday things and the power of humans and what they can do together–for good or for evil.
Also, it's hilarious.
I mean, if you couldn't tell from the giant world turtle. My favorite books are hilarious but also meaningful. The other great thing about Discworld is that it really is an entire world. There are over 40 books, but most of them don't go in any particular order. There are a few general storylines, but also many one-off novels, and characters from different books appear as minor characters in others. That in itself is a feature I love, like unexpectedly bumping into an old friend. I really think this means that there is a Discworld book for everyone. I love all of them, but at certain times in my life I've been more drawn to the Rincewind stories, for instance, whereas now (as you'll see from my list) anything featuring Vimes usually gets top billing. It was hard to decide on a Top 10, and I feel like I will change my mind about some of the ordering even tomorrow, but for now:
10. Men at Arms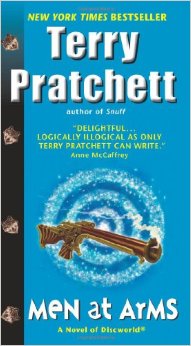 I love Vimes novels because I love: 1) a good mystery, 2) a scruffy, world-weary underdog, and 3) the underlying themes of inclusion and justice. Vimes works for the Ankh-Morpork City Watch, which, at least at the beginning, gets about as much respect as those flunky guards who always get killed by the hero on the way in to save the princess in a trope-filled fantasy novel. Still, I would classify these books as police procedurals, with werewolves. In this one, Vimes has to catch a serial killer on the loose in Ankh-Morpork with a strange new weapon that does untold damage. He also has to deal with new species integration in the Watch, when he's forced to hire a dwarf, a troll, and a werewolf.
I really like watching Vimes grow as a person throughout the books about him, but still retain that hard-bitten core of Vimesishness. This book uses the anti-dwarf/troll/werewolf attitudes espoused by Vimes, other Watch members, and the populace at large to parody real issues of racism and sexism, and Pratchett's portrayal is spot fucking on.
9.The Fifth Elephant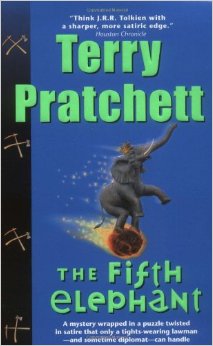 This is another, later City Watch novel, where Vimes is sent as a diplomatic envoy from Ankh-Morpork to Uberwald for the crowning of a new Low King of the dwarfs. Of course, since it's a Vimes novel, there's a mystery to solve–namely, the theft of a sacred dwarf artifact. And the theft of a model of it from an Ankh-Morpork museum. And the murder of a condom maker. Related? Maybe! This book builds on previous worldbuilding and gives us an insight into "traditional" dwarf, werewolf, and vampire society. Ankh-Morpork and all its problems are downright cosmopolitan by comparison. Case in point: Corporal Cheery Littlebottom, one of the first openly female dwarfs.
Pratchett's depiction of traditional dwarf society, with all the attendant legends and mythology of a people who have lived their lives underground, in near-darkness, is breathtaking. The way he plays with traditional tropes is hilarious (the main vampire character, a Countess, knits her own cardigans). This book is as much a political thriller as it is a mystery, and Vimes is the best forever.
Read the rest of this entry »