Since this year marks its 10th anniversary, I somehow convinced Brian to read Eat, Pray, Love with me. That was four months ago, and Brian has since found way cooler pursuits, but I finished my review anyway so here it is!
As always, here are three compliments about the book before I expound upon why I hate it:
1) Elizabeth Gilbert isn't a terrible writer, so this book was more readable than many we've done for Hate Book Club
2) Her life advice, while mostly very general and obvious, won't kill you
3) Some of the food descriptions sounded good
The plot is pretty simple: a rich white lady gets a divorce and then a book deal to take a year to travel around the world and "find herself." She wants to go to Italy to learn Italian, India to study at an ashram, and Bali because she was there once and thinks she needs to go back. To try to make her book cohesive, she decides to cram these seperate destinations into a thematic concept about "understanding pleasure, devotion, and a balance between the two" that I don't buy in any way at all.
My overarching problem with this book is that it can't decide what it wants to be, so it just does everything badly. Is it a travelogue? I hope not, because Gilbert spends almost no time describing what it's like to be in these separate places. I have no concept of them or even the people she meets beyond how they affect her. Is it escapist? No, because she spends so much time whining I don't want to experience her journey through her. It's not a romance for the same reason–though she does find love at the end, there's so much angsty build-up that a romance novel fan would quit in disgust. I guess "spiritual memoir" is the most accurate, since we mostly only get how the places she's visiting are affecting her psyche. And maybe there would be some value in that if she weren't insufferable.
As an English major who suffered through all the usual classics, it's weird that I'm about to say this, but: this is the most white-people book I've ever read. Gilbert spends 387 pages complaining about how awful her life is, when she's clearly part of the 1%. We've got your egregious (if strange) displays of wealth:
"Wasn't I proud of all we'd accomplished–the prestigious home in the Hudson Valley, the apartment in Manhattan, the eight phone lines" (11)
Eight phone lines???? Why??? Add to that some "We came over on the Mayflower" bullshit:
"If I look on my dad's family tree all the way back to the seventeenth century…" (63)
And, most ridic of all, THE FACT THAT SHE IS BEING PAID TO TRAVEL THE WORLD FOR A YEAR:
"I have quit my job, paid off my divorce settlement and legal bills, given up my house, given up my apartment, put what belongings I had left into storage… in advance, my publisher has purchased the book I shall write about my travels" (36)
She consistently wants you to pity her, even with her language choices–she's "given up" everything in her life–while ignoring the fact that she is being paid to loaf around various international destinations for a year when I can't even get a Monday night off.
And you know when we're talking about class privilege, white privilege can't be far behind. Especially when traveling internationally. Here's where she patronizingly talks about how cute it is that a girl in India continues to wear her broken glasses instead of just getting them replaced like I'm sure everyone in rural India can totally do easily:
"Tulsi is just about the cutest little bookworm of an Indian girl you ever saw, even cuter since one lens of her "specs" (as she calls her eyeglasses) broke last week in a cartoonish spiderweb design, which hasn't stopped her from wearing them" (188)
Here's where she complains that one of the chants they have to recite at the Indian ashram is just not fun like ugh you guys, don't you hate it when you exoticize a culture but then it turns out to be boring and not mystical at all like you expected??
"each verse is a paragraph of impenetrable Sanskrit…I don't like the tune and I don't like the words" (169)
Here's where she complains that trying to learn the language of the country she's visiting for four months would just be too much hassle. Better the people whose home you're visiting learn English to better cater to you:
"I just can't take on the task of trying to learn Indonesian or, even more difficult, Balinese–a language more complex than Martian" (226)
Here's where she talks about how nice and easy it is to get around Bali now that terrorist attacks have threatened their livelihood:
"It's even easier to get around now; everyone is desperate to help you, desperate for work" (226)
Here's where she decides when an orphaned Indonesian girl's birthday is for her. And makes her share, because don't be greedy, Little Ketut; orphans can't afford their own birthdays.
"Little Ketut, the smallest orphan, whose birthday, I had decided a few weeks ago, would also be on July 18 from now on, shared with my own" (319)
Plus there's this:
"Thanksgiving is a nice holiday, something an American can freely be proud of" (113)
Elizabeth Gilbert is also fixated on sex. Every time she introduces a new character (and these are real people that she met in real life) she assesses their fuckability:
"Sofie is… so damn cute you could put her on a hook and use her as bait to catch men" (59)
Or worries about her own fuckability because she's not being sexually harassed by strangers in public:
"And while it's certainly nice, of course, to not get pawed by a disgusting stranger on the bus, one does have one's feminine pride" (70)
Maybe this book would be less annoying if she was just going on this journey for herself instead of with the intent to write a book. Because–my dislike of her aside–this all feels incredibly fake. Gilbert doesn't so much want to experience different cultures as to appear to be the kind of person who does. For instance, she contemplates taking a temporary vow of silence at her ashram for these reasons:
"People will talk about me. They'll ask 'Who is That Quiet Girl in the Back of the Temple, always scrubbing the floors, down on her knees? She never speaks. She's so elusive. She's so mystical." (200)
Not to help her in her spiritual journey or better understand the ashram's teachings or bring herself closer to god. Nope. The main motivation behind the vow (or anything in this book, really) is how much you like the image of yourself doing that. Whether it's taking a vow of silence at an ashram, speaking Italian, or white savioring your way into an Indonesian woman's life by buying her a house, this book and Gilbert herself are all about appearances over substance. And those appearances aren't even that appealing.
Plus, her humor is entirely dad jokes and puns:
"So I made a joke that he was a "bonga-leer" like those guys in Venice but with percussion instead of boats" (280)
That's her flirting, if you can believe it.
In case you want to go on your own Eat, Pray, Love inspired spiritual journey, I've made you a handy graph: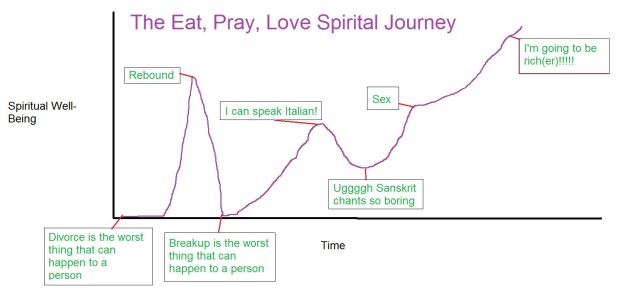 In conclusion,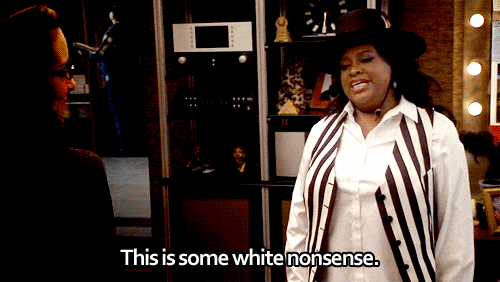 Previously: Interview with the Vampire